Board Ready Talent Scheme
Developing tomorrow's Executives in the East of England
The Board Ready Talent Scheme supports organisations in the East of England to develop leaders of the future, bring greater diversity to their boards and to focus on the future of the business through succession planning.
It works by providing talented individuals with development opportunities on the boards or senior leadership teams of other businesses; helping them to develop into future Executives and widening the pool of board-ready individuals in the region.
For further information download the brochure and register your interest, please contact Lucy Plumb.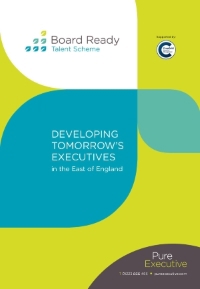 "It is a pleasure to support the Board Ready Scheme.  The Board Ready scheme is a great way to prepare senior managers for the next big step onto a board, mixing robust theory with real-life pragmatism to provide a series of great insights into life on a board - whether as an executive or as a non-executive. In this way, it offers participants a unique and special insight into the boardroom."
John Watkinson, Best Practice Group Chairman, Vistage International.